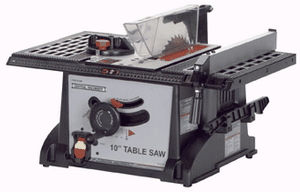 10", 15 Amp Industrial Bench Table Saw - 97896

Ratings: (5 is best)



1 2 3 4 5

Review by concombrefrais on April 3rd, 2010

Got the EXACT same at Lowes, under the brand Skill. Look it up it has to be the same manufacturer they are identical except for the color. Surprisingly the lowes one was cheaper, even with a 20% off. Probably not so if you catch a HF sale.
Anyway, the table works very well, powerfull enough for anything I throw in.
I am sure you can get a better one but I don't think you can find a better value. My main complain is that it is hard to make very small cut to remove say 1/4 inch of material. The reason is because the metal part which hold the plastic protection cover on the blade gets in the way. It might be this way with other models as well.
Overall I am very happy, again great price for what you get.
Post a Review
Log in or create a user account to post a review!