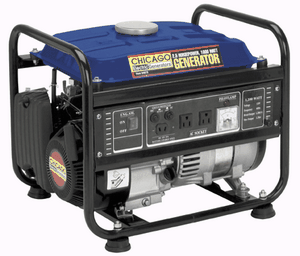 2.5 HP 1050 Watts Max/1000 Watts Rated Generator - 97906

Ratings: (5 is best)



1 2 3 4 5

Review by Goomer on January 30th, 2010

Here is a classic man vs machine love/hate relationship. When it starts, I love this little generator. Great price, small, light weight, reasonably quiet, it will run all day on a tank of gas and power pretty much all of the portable tools I use on a job. It does vibrate a lot more than most higher quality generators, but what do you expect for a hundred bucks (Sale price)?

But, like many small gas engines, it has a personality and is just very finicky about how you start it. It will flood very easily and no amount of pulling on the cord or choke settings will get it to start. It just has to sit until it is ready to start. I always take a can of starter fluid with me when I'm going to use this machine. There is a specific sequence of choke settings it likes to go through and looking at the choke lever I find the markings pretty cryptic. Never ever pull on the cord with the switch turned off. It is flooded, guaranteed.

Larry and I were out on a job one day and went to start this little beast. It flooded and we took turns pulling on the starter rope. When we noticed this pale blue fire coming out of the bottom of the carburetor I almost felt relieved thinking I wouldn't have to pull the starter rope anymore. But the fire went out by itself, the engine dried out and it started right up.

I might buy another, but I'd think about it pretty hard. I've gotten more than my money's worth out of it and it still runs very well. But it can be pretty aggravating.

Post a Review
Log in or create a user account to post a review!