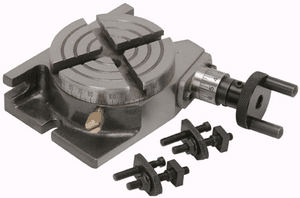 3" ROTARY TABLE AND CLAMPING KIT - 98077

Ratings: (5 is best)



1 2 3 4 5

Review by dld on December 26th, 2009

There is slop in several dimensions causing tools to dig in and jolt the whole surface, even when machining wood and plastic. The table screw has 2-3 degrees of backlash. The set screw, while knurled for hand turning, has to be tightened with a screwdriver to keep the table from rocking. When tightened that much, the table is pushed visibly off-center and up at an angle, indicating more slop in the table rotation independent of the worm drive.

The hand wheel is quite small and difficult to use, yet if it were a 16th smaller it would be below the table surface and not interfere with overhanging parts. The "clamps" are just steel plates with a pair of small screws. A 1/4" bolt hex head is stiffer, but rotates in the t-slot until tightened.

This can only be used with the set screw tightened and isn't very level, so it can only be used to rotate to a different angle, not for machining curved surfaces, and only then if level and squareness aren't a significant concern.

Post a Review
Log in or create a user account to post a review!