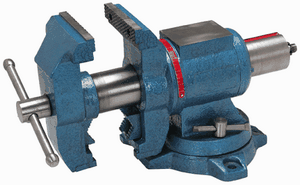 5" Multipurpose Vise - 98187

Ratings: (5 is best)



1 2 3 4 5

Review by photoleif on March 20th, 2012

I really have very few complaints. I actually have item 67415 but this is close enough. The anvil is tough, the center column is solid, the jaws line up, and the thing weighs about 50 lbs, which is excellent for absorbing a lot of energy when hammering something flat or doing crude bends. I have recently discovered a new use for it, namely as a rudimentary press. I cut a short section off a cheap allen wrench and fit it into the hex bolt on one of the jaws. this lets me press small to medium center pins and such out of their holes.

The vise is plenty tough, though the paint chips fairly easily in mine. Overall I'm quite pleased, especially since I got mine for 20% off.
Post a Review
Log in or create a user account to post a review!