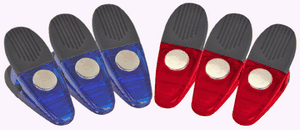 6 Piece Magnet Clip Set - 98188

Ratings: (5 is best)



1 2 3 4 5

Review by Goomer on March 28th, 2012

Identical to ones I've seen other places with a price of $3 for one, this six piece set for $4 (never seen them on sale) are handy for all sorts of things. There is a set of them on the refrigerator, but at any time 3 of them are in use holding bags of potato chips, bags of coffee beans, or whatever shut. In the shop, they clip up notes and sketches, which I am forever misplacing if I don't have a specific place (like the clip) for them. Range of colors could be better, but no big deal. They clip well, the magnet holds better than most refrigerator magnets I've dealt with in the past. I just might get another set next time I'm at the store. Just because.
Post a Review
Log in or create a user account to post a review!