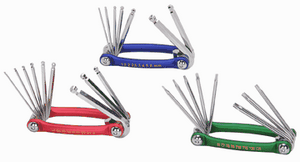 3 Piece Folding Ball Hex Key Set - 98523

Ratings: (5 is best)



1 2 3 4 5

Review by photoleif on March 20th, 2012

I had high hopes for this set, but unfortunately the ends are cut in a way that significantly weakens them to the point that the ball tip of the hex keys can break off, which is what mine did. I initially rated this a 2 because tools shouldn't break under reasonable load or use, and I guess all the others are still in service, so I'm upping to a 3. What it does do well is hold together -- you would think the fine-boned structure would twist and come apart, but it seems to hold up pretty well. The set is nice to have around for convenience use in a junk drawer. If you get this, just be nice to the small keys.
Post a Review
Log in or create a user account to post a review!