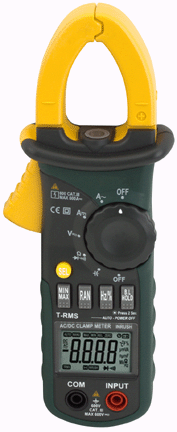 Digital Clamp Meter with LED Light and LCD Display - 98675

Ratings: (5 is best)



1 2 3 4 5

Review by orangenblack on January 25th, 2010

Bought this on clearance. Then looked it up on the internet, trying to determine the value. (Turns out it is $150 Mastech model). Then went back and bought another (spare, for myself). Also, bought one for a buddy who does electronics. This think has a few GREAT features: INRUSH measurement (only above 30 amps, but you can always wrap a double loop of wire through the clamp if you are measuring only 15 amps inrush (etc). Light. FAST measurement ! (I have meters with slow sample rate that really bother me when in a hurry). Beeps. Auto Shut Off. 600 Amps max range. Only problem I had was that meter leads are REALLY snug. So snug that I was not initially pushing them all the way in, and I thought they were loose, and making bad connection. So I finally tried a different old lead set with exposed banana plugs, and they worked fine. So I wiggled the included set more, and they make good connection. I like this meter so much that I now carry OTHER meters that I paid MORE for, as my 'sacrificial' meters for general volt/ohm measurement. BTW: My buddy reported that he has kinda abused his (accidentally left it on wrong range when trying to measure something else), and it still works great. If I had to pay the $150 that it sells for at other companies, or even the $69 that HF originally sold for, I probably would not be quite as happy. The only thing I am bummed about it that I did not buy SECOND spare ! Only thing that would have made this better is if they had alligator clips which fit over the points of the probes.
Post a Review
Log in or create a user account to post a review!