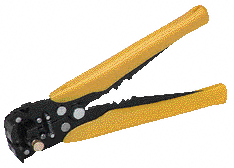 HEAVY DUTY SELF-ADJUSTING WIRE STRIPPER - 36810

Ratings: (5 is best)



1 2 3 4 5

Review by photoleif on March 20th, 2012

Works like magic for finer gauge wire, especially wire with very soft insulation. Its adjustment knob doesn't seem to do much past a certain point, and the stripper is entirely incapable of stripping Romex wires after a year of use. It continues to work OK for small-gauge accessory wire, but it cannot handle 12ga Romex at all. It barely tears 14ga Romex. It simply slips with 12ga.

I would give it a 5 for ease of use if it worked reliably. Since it fails to work at all on certain wire, I'll average it at a 3 rating. It has worked on Romex in the past, so I suspect it's tending toward EOL and replacement, which is what I did, but with a more expensive manual stripper.
Post a Review
Log in or create a user account to post a review!