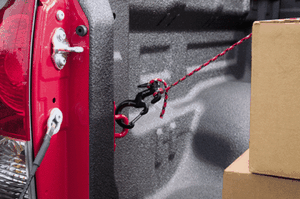 Figure 9 Carabiner, Large - 98829

Ratings: (5 is best)



1 2 3 4 5

Review by Goomer on March 22nd, 2012

Now this little guy turned out to be a really handy thing to have. It claims to have a 150 lb. load capacity, that would appear to me to be an honest limit, I'd expect failure soon after. Where it really shined was working in the overhead and the damned extension cord kept coming unplugged and hanging up below. I clipped this little guy to a beam and hung the extension cord off it. Worked very, very well. So well that someone who saw it stole the one and only I had on the job. So, I was in for two more. Standard round cord (probably a 14 gauge) fit in it just fine, did no visible damage to the cord and sure saved its $4 cost in aggravation many times over.
Post a Review
Log in or create a user account to post a review!