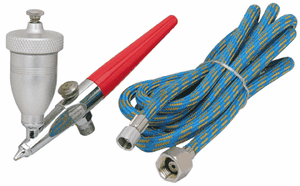 Air Eraser Kit - 99636

Ratings: (5 is best)



1 2 3 4 5

Review by Goomer on August 16th, 2013

Wow!!! I'm using this for etching glass and it is working great. There is a learning curve to the adjustment (knob on the cap) for the amount of abrasive (200 grit) and the PSI. This is Last night I was running it at about halfway open at 80 psi and it worked beautifully. Max rated psi is 65 pounds, due this at your own risk. The air hose is a thing of beauty with a moisture collector in the middle. Very nice. I see no signs of wear, and I am over pressuring it, after a couple weeks of occasional use I have no idea how long it will last. I also have one of the Paasche air erasers and for my glass etching, this beats the socks of the one that cost over twice as much.

Very controllable, it doesn't use a lot of grit. As a bonus it removed the nicotine stains from my fingers.

Definitely would buy another and almost certainly will buy one for a spare. I've found with a lot of Harbor Freight tools if I buy a second one for a spare, the first one will last forever. Kinda like an insurance policy. If you have it you never need it.
Post a Review
Log in or create a user account to post a review!