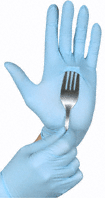 Pack of 100 X-Large Nitrile Gloves - 37052

Ratings: (5 is best)



1 2 3 4 5

Review by photoleif on March 20th, 2012

Use these constantly and am delighted. I will always re-stock this exact glove and have no complaints. They fit right, can be removed and reused if one's careful, and do put up with a certain amount of abuse. I'm not altogether certain about the fork picture, since they do tear on screws and such, but I am still a big fan of them. I use them for automotive work, staining, painting and also for other things like cleaning solutions I would rather keep my hands away from.
Post a Review
Log in or create a user account to post a review!