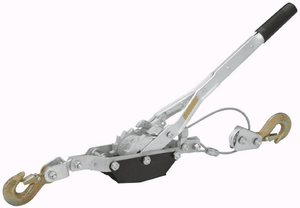 4000 Lb. Capacity Cable Winch Puller - 30329

Ratings: (5 is best)



1 2 3 4 5

Review by Bigplanz on August 28th, 2011

Pulled a 24 inch tree trunk with it (1000 pounds, I guess) and it did ok. I winched, it pulled, no problem. It was a short pull, maybe 15 feet, onto the tines of a fork lift that couldn't get through the mud to the tree trunk. Forklift stayed on the pavement and we winched the tree trunk to it. Wait for it to go on sale for $10 and pick one up. I lubed it up with some hi temp grease, and made sure all the nuts and bolts were tight. Use as directed and you shouldn't have a problem. One of those harbor freight items I wouldn't give $25 for but will snap up for $10.
Post a Review
Log in or create a user account to post a review!