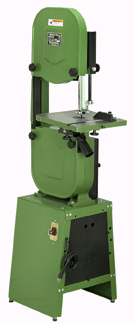 14" 4 Speed Woodworking Bandsaw - 32208

Ratings: (5 is best)



1 2 3 4 5

Review by tfischer on May 5th, 2014

Good value. I've had mine for 8 or so years and tricked it out somewhat... added some parts from a Grizzly saw to get blade tension release, better guide bearings, riser kit, etc. I also added a Kreg fence which doesn't fit well without some fairly major modification but it works great now. Biggest thing I miss now is a decent dust port and hinged doors.

Review by pedalplane on August 10th, 2010

I probably have the most tricked-out #32208 band saw in existence. In stock form, the saw is good, the guides and blades are just plain bad-to-so-so. Years ago, with this stock saw, blades/guides and a home-made extension table, I turned out 24" dia lazy susans with about 1/8" of runout. Time to pay for more precision! This appears to be the same cast iron frame as the Grizzly GO 550 saw. I bought a 6" riser block kit for the Grizzly, which bolted perfectly into the saw frame. I had to bore out the cast iron for the larger diameter 12" blade guide shaft, and also carefully bored out the pot metal top guide holder. The Grizzly blades are also junk. The woodworking show came to town, and I bought top and bottom ball bearing guides, Carter, I believe, as well as their grooved guide which holds the back of their 1/8" blade (allowing the cutting edge to flex for sharp turns) new 'tires' and a quality set of 103" blades. I also bought one of those Kreg fences and resaw guide. With good blades the saw will blow through anything from 12" thick resawing to delicate scroll-saw quality precision. Ive been tempted lately to pick up a 2nd HF 32208, one for fine detailed work and one for resawing and other heavier jobs. I've heard of someone who adapted a 10:1 gear reducer to this saw so it can be used to cut steel. Might hafta give that one a try. Anyway, I recommend this one highly.

Review by dbhost on December 16th, 2009

The overall fit and finish of the saw ABOVE the stand appear to be on par with the bottom end Grizzly 14", the Ridgid BS1400, and lower model Delta 14" saws. The main difference that I can see is features (2" instead of 4" DC chute, 1HP instead of 3/4HP motor, etc...). The BIG difference is where / how the motor mounts. (The CM mounts UNDER the stand, the Ridgid for example mounts behind the saw frame on the stand).

Assembly of this saw is NOT an easy task, as the documentation is written initially by somebody that does not speak English as their native tongue, and to make things worse, they simply leave out LARGE sections of the assembly instructions. Plain and simple, have good mechanical skill going in, ask a lot of questions, and if need be, use the Harbor Freight tech support number....

The motor bracket is shown mounted BACKWARDS in the instruction sheet. Both the printed one, and the one online. There are minimal instructions for setting up any of the safety guards, and you can only sort of hit and miss guess at where they are supposed to go... And the blade guides are a quirky design...

As far as I know, even Powermatic band saws need some tweaking from the factory to work their best, and the Central Machinery saw is no different. It needs a much improved blade like almost every other saw on the market, as well as a decent fence, rise block kit if you are going to do any serious resawing, and at a minimum the OE blade guide blocks should be replaced with Olson Cool Blocks as soon as possible.

The tension adjuster is a simple knob, as is the tracking adjuster.

After the headaches and a few unneccesary cuts from the poorly finished metal edges (typical of Chinese construction) the saw is together.

The blade appears to be tracking straight with a home brewed sled.

As a test I cut some curve shapes out of a 3" Oak Plywood glue up / waste that was in the workshop. The saw was on the highest speed setting, and did not bat an eyelash at going t

Review by holger on December 7th, 2009

I use mine regularly, and although there is a big sticker on it "Only for Wood" or something, I use it often to cut metal. The one weak point is the table rotates too easily, even when secured. I buy the saw blade somewhere else then HF. It's a solid tool, worth its price.
Post a Review
Log in or create a user account to post a review!