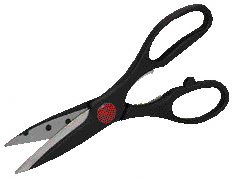 MULTIPURPOSE SCISSORS - 36872

Ratings: (5 is best)



1 2 3 4 5

Review by Goomer on February 26th, 2017

Less than a dollar! I've got a number of these in the house, kitchen, shop, even the van. They cut well, they are really very sharp and hold that edge. Better than scissors I've paid many times as much for. After years of use the handles on a couple broke, a dab of superglue and they are still going strong.

The handles broke using them as tin snips on lightweight aluminum. They worked well right up until the handle cracked. Honestly, this wasn't unexpected. My success with sharpening scissors over the years has been mixed. These are cheap enough that I'm not even going to try. But, in probably 10 years of use (spread over a half dozen pairs of these) not has dulled to the point of no return.

My next trip past the Harbor Freight Store and I'll pick up a few more pairs, just in case.
Post a Review
Log in or create a user account to post a review!