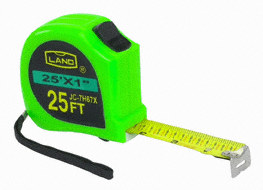 1" x 25 ft. Quick-Find Tape Measure - 41254

Ratings: (5 is best)



1 2 3 4 5

Review by photoleif on March 20th, 2012

Superb buy on sale. The numeric scale is convenient, the spring works every time, and the length is great for most indoor jobs. I ended up with three of these because the price drops through the floor on sale. I think the last one I got was a paltry $1.79, which is insane for what you get. I would immediately re-purchase this exact item should one become damaged beyond repair, and would give them as gifts, recommend to friends, etc.
Post a Review
Log in or create a user account to post a review!