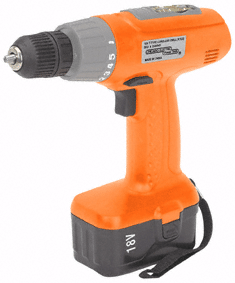 18 Volt Cordless Drill/Driver Kit - 44849

Ratings: (5 is best)


1 2 3 4 5

Review by Goomer on January 30th, 2010

For the money, this may be the best cordless drill in the world. Smart charger that turns off when the battery is charged. The batteries interchange with a wide variety of HF tools. Good quality chuck, good amount of power and torque. The drill housing is a on the fragile side when compared to say, Milwaukee or Bosch. I've broken the reversing switch on a couple of them, but managed to whittle replacements out of some plastic I had. Drop it from about 10 feet and the handle may snap off the body. But, for $40? I have a couple I've been using around the shop for years.

I don't take these out on jobs anymore, I've upgraded to some pretty serious drills that have much better battery life, but close to home, there is nothing else in this price range that comes close to the quality you have here.

By the way, the original HF 16.8 drills and batteries will interchange with the newer 18 volt in the drill and charger as well. No problems on my end.
Post a Review
Log in or create a user account to post a review!