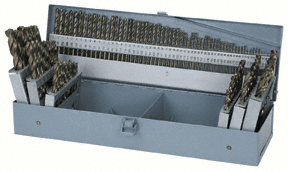 115 Piece Cobalt Drill Bit Set - 47653

Ratings: (5 is best)


1 2 3 4 5

Review by royesses on December 31st, 2015

Purchased these for general junk use. The set I got is excellent quality. They are straight, sharpened properly and properly sized. I was shocked at the quality compared to other HF drills. I've drilled 304 stainless, 4130, 4140, 1018, 12L14, aluminum 6061-T65 and cast iron. They have stayed sharp. Now my goto drills instead of my expensive sets ($400.00 Precision Twist Drill).
Purchased the HF set for $80.00 using a 20% off coupon 3 years ago. Maybe I got one of the only good sets they have?
Post a Review
Log in or create a user account to post a review!