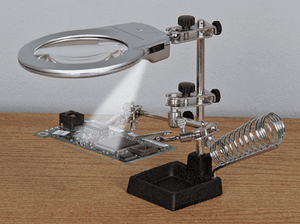 Helping Hands with LED Lights - 65779

Ratings: (5 is best)



1 2 3 4 5

Review by Bigplanz on June 15th, 2016

I have a 2000 Lincoln Navigator, and like its siblings of that era (F-150, F-250, Expedition) it had the 'now you see it, now you don't' electronic odometer. A real pain in the a** not to mention annoying. If you have state inspections or emissions testing, you can't get your vehicle passed without an odometer. Most shops won't "repair it" they will only replace the whole instrument cluster. Many $$$ to do this. I researched it on youtube, went to a salvage yard and checked out how hard to pull a cluster from an old navigator. Ridiculously easy to get it out. You have to solder a connection on the circuit board to repair the odometer. Very tiny connections. I bought this thing and it was a god send. Position the board, turn on the light right on what I needed to solder, and there it was. Very, very helpful to hold the work piece in place and put light right where I needed it. For my application, the 6x magnifier worked great. This thing is great! And CHEAP!!! With a coupon, less than $8. My odometer now works perfectly. Highly recommended.

Review by Goomer on January 23rd, 2016

Just got this and have yet to put it to real use. I started playing around with some small electronics stuff and soldering wires to the wires on little stuff like resistors and diodes was testing my patience. Somewhere I have one of the basic HF "Helping Hands", couldn't find it and honestly with my eyesight lighting was a much of an issue as getting things to stay still long enough to do the soldering.

First impressions: This is well made. It has some heft to it. Assembly was easy (never opened the instructions). I needed a soldering iron stand, this has one the much less expensive one does not. HF's pricing is very comparable to what I found other places, better than many. And it was on the shelf, I didn't have to order it from China and wait. The ball joints seem to hold quite securely, as opposed to the cheap one that I never could really get to stay still. The only wingnuts are on the alligator clips. Other adjustments and locking down are with plastic knobs. More finger friendly as long as they don't break. It surprised me how little torque I had to apply to the plastic knobs to get them to stay in place. There seems to be more precision here than I am used to.

The biggest surprise is the lens and lighting. The magnifier is very clear, the small 6X "zoom" lens inside the large 2X lens if aimed at the helping hands means they are touching each other. This makes the 6X close to useless. But, the LED lighting is surprisingly good and uniform, not a spotlight effect. It illuminates the work area far better than I had expected. And it came with the 3 AAA batteries that it needs.

The battery cover, by the way, was a bugger to get off. Clearly labeled as to how to remove it, it refused to budge. A little gentle prying and it popped loose, flying about 3 feet. It was undamaged and snapped back in like it is supposed to.

The base forms a tray for a sponge to clean the soldering iron tip (sponge not included). The base measures roughly 2 1/2" X 2 1/2" and has a rubber pad attached to it to keep it from sliding around. I expect that at some point I'll be putting some double backed tape on it and sticking it to a larger piece of something to prevent it from tipping over. That has not become an issue yet.

This feels like it should last. Might not do well getting knocked off the workbench, but it is a rather precision piece of equipment. I recommend this tool.

I would recommend this.
Post a Review
Log in or create a user account to post a review!