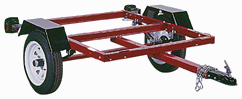 1075 Lb. Capacity 40-1/2" x 48" Mini Utility Trailer with 12" Four-Lug Wheels and Tires - 90153

Ratings: (5 is best)



1 2 3 4 5

Review by Goomer on October 21st, 2013

I purchased one of these a couple years ago and used it as the platform for a portable barbecue. The barbecue design I used is basically an Argentine parrilla, (Google it) this trailer was an inexpensive way to make a large portable wood fired barbecue to take around to various events and cook burgers and hotdogs.

I made a number of fairly minor modifications to the trailer, such as stiffening (side braces welded on) up the tongue so the trailer jack I put on won't tend to roll over. The jack serves as a leveler when I unhitch the barbecue. I added additional ground points for the lighting, that solves what I've found to become a problem in the past. The coupler it came with is 1 7/8", that went away and was replaced with a 2".

The trailer is easy to move by hand, even with all the weight I've added. For under $200 this thing is a great value. The wheels have a zerk fitting on the back side, so you can grease up the bearings and essentially pack them externally. A really slick idea I've never seen on any trailers other than Harbor Freight's.

The lights are kind of hung out there and will end up being broken. It seems to be inevitable on all these small trailers. Adding brackets to protect them seems to me to be asking for damage to the trailer frame. So, I end up replacing them, about 1 a year between the 3 trailers I have. Not a big deal and pretty inexpensive when purchased on sale from you know who.

All the parts were there, went together just fine. Instructions were adequate.

Inexpensive enough to be dedicated to a single purpose, easy to move around, trailers nicely. What a deal!
Post a Review
Log in or create a user account to post a review!