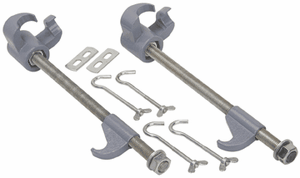 COIL SPRING COMPRESSOR - 3980

Ratings: (5 is best)



1 2 3 4 5

Review by Bigplanz on January 31st, 2010

These do work, and for only 10 bucks it's a deal, but they don't inspire confidence in regard to safety. The OEM strut compressors (35 bucks at Autozone) are superior to these in every way, and compress the coil spring with authority. The HF one did compress the spring, but on every turn of the ratchet I was wondering if it was going to snap. It didn't, but... well, when it comes to an auto coil spring, if the tool breaks there is a very real risk of death or serious injury. Don't go cheap on this one. Get the OEM.

Tip: put anti-seize compound on the treads. Makes it much easier to decompress the springs.
Post a Review
Log in or create a user account to post a review!