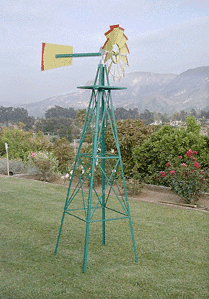 Multicolor Decorative Windmill - 41293

Ratings: (5 is best)



1 2 3 4 5

Review by moabjeeper on April 29th, 2010

Picked up this decorative windmill last week. I have to admit that this is not the type of thing I would buy unless it was cheap. The normal price of $59.99 is WAY too much for this item. I picked it up on sale, and dropped a 20% coupon on top of that. Now were down in the price range where I feel it is a good buy. The item is of average construction, pretty much what you come to expect from china. The nut heads are square, so forget about using a nutdriver to put it together. Also, the instruction manual is totally worthless. If you read the directions, you have the thing halfway together only to unbolt a bunch of stuff to put the crossbraces on.

It looks good in my yard though, and it adds some whimsy to the landscape. Plan on using the included stakes, or cementing it down becuase I dont think that it is heavy enough to stay standing in a good wind.
Post a Review
Log in or create a user account to post a review!