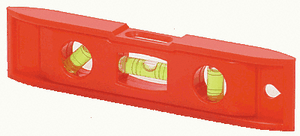 6" LEVEL WITH MAGNETIC STRIP - 37588

Ratings: (5 is best)



1 2 3 4 5

Review by photoleif on March 22nd, 2012

Love this thing. It's accurate, which is a bit surprising for $1, and due to being so cheap, I use it in and for situations I wouldn't dirty or damage my Stabila level. I have dropped it on a garage floor and it hardly looks any different, which is to say, it still has bits of cured mortar, grease and other debris all over. Still works fine. Great product, especially at this price.
Post a Review
Log in or create a user account to post a review!