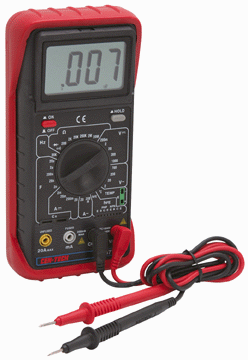 AC/DC DIGITAL MULTIMETER - 37772

Ratings: (5 is best)



1 2 3 4 5

Review by Goomer on June 13th, 2016

I've had one of these for years. Periodically feeding it the rather expensive 9 volt batteries it eats regularly. Much of that is my fault, there is no auto off feature. It was a reasonably good multimeter in it's day, but hasn't been updated to include features found on newer model meters (not from Harbor Freight). Such things as auto power off, auto ranging, resettable fusing, and running on AA batteries instead of 9 volt. None of these are essential, but you can get much more for the money somewhere else. Something with better accuracy, more friendly interface, just a nicer meter. Take a look at the Mastech MS8268 on eBay or Amazon and compare the features and price.

Review by photoleif on March 20th, 2012

Perhaps not the best HF buy, but it's more accurate than the super-cheap #90899, and has greater precision and more features including a surprisingly useful thermocouple. The armored case is nice, and oddly mine smells of vanilla, which is certainly strange in this context but easily preferred over the typical PVC odor. The probes are decent quality, quite sharp, and easy to handle. They are designed to stow in the back of the case, but in reality that's a bit of a joke since there's all this cable to stow as well, but it has nowhere to go.

For the price, I would have expected auto-ranging within a measurement type, and thus I docked it a point. Still a good value and it's my preferred DVM.
Post a Review
Log in or create a user account to post a review!