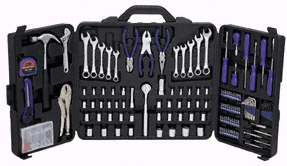 130 Piece Tool Kit with Case - 91507

Ratings: (5 is best)



1 2 3 4 5

Review by photoleif on March 24th, 2012

Got this as a gift many years ago when its configuration was a little different. Many of the items in it (the hammer, the tape measure, most of the screwdrivers, one of the pliers and the locking pliers) have died quick deaths despite light use. The hammer, for instance, has a hollow handle and crumpled after a few taps, literally, on a stuck bolt. I had so many duplicate sockets that I gave them all away to friends so I can't comment on those. The snap-off razor we still have and are about to exhaust, so that's been useful. There's a needle nose pliers that's still going strong. For the most part, however, this set is composed of the cheapest of the cheap, the sort of thing a tool neophyte has as a just-in-case set they'll let rust in the trunk of the car.
Post a Review
Log in or create a user account to post a review!