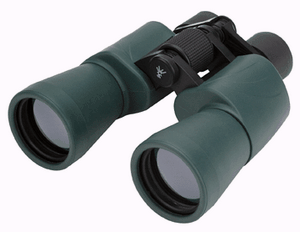 10 x 50 WIDE ANGLE BINOCULARS - 94527

Ratings: (5 is best)



1 2 3 4 5

Review by Aaron on May 25th, 2013

These were an impulse buy; they were on sale. I used to have a name brand pair that was made in Japan; when I went to replace them (younger 2nd cousins can be cruel) I found that they are now made in China. Cost has gone UP though. These listed for about 1/10 the price, so I thought I would try them. NICE!! I don't know if they are the exact equal of my old ones, but they work well. Coated optics, individually adjustable diopters for each eye, smooth as silk action. The rubber coating is nice, not sure about the color though. The carrying case is better than nothing, but it's awfully light. The instructions are a little vague, but if you've ever used a pair before you'll have no trouble figuring them out. And on sale, they're cheap enough that I'm thinking about getting another pair so I can have one in the house and one in the car.
Post a Review
Log in or create a user account to post a review!