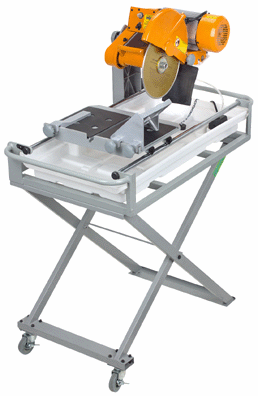 2.5 Horsepower 10" Industrial Tile/Brick Saw - 95385

Ratings: (5 is best)



1 2 3 4 5

Review by photoleif on March 22nd, 2012

This thing is a beast. I had exactly the same experience as @JennaSys did -- freehanding works very well with this saw, and rigidly adhering to table-guided cuts isn't the best strategy. You can stop the saw by pushing too hard, but you have to be in a big hurry to make that happen. It's really tough, great quality, and of course deafeningly loud.

I have two gripes for which there are only partial workarounds. The mud flap is cheap, becomes stiff and eventually breaks off and has to be replaced. I made a new flap by patterning some vinyl runner off the broken flap, and then screwed that on. It works fine. The other issue is the pump tubing. It gets in the way of large cuts, and shy of replacing it with longer tubing which you carefully route around somehow, there's no good fix. One has to make very certain the jets are aligned and not clogged. When clear, the whole thing works very well and keeps the blade cool. Overall I'm quite pleased with this saw.

Review by JennaSys on May 8th, 2010

I used this to cut granite tiles for a countertop and while it cuts great, the accuracy leaves a lot to be desired. It cut through 1/2" granite like butter, and handled 3/4" thick tiles without much trouble as well. Just don't rush the cut, let the blade do the work and spend you time on keeping the cut straight, because that the one part this saw won't help you with much. I tried aligning the blade to the sliding table which helped, but by the end of the job I was getting better results by just freehanding the cuts. In short, great power for the price, but requires some messing with to get straight cuts.
Post a Review
Log in or create a user account to post a review!