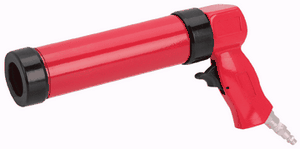 PNEUMATIC CAULKING GUN - 95431

Ratings: (5 is best)



1 2 3 4 5

Review by Goomer on February 10th, 2010

This ranks up there as one of my top tool discoveries of 2009. Years ago I had purchased a pneumatic caulking gun that had clips in the front to hold the cartridge in the cradle. Next to worthless, the tube would surge forward when you pulled the trigger, then pull back when you let go. They no longer sell that model and that design is to be avoided.

You can lay down a continuous smooth bead of caulk from a tube with no hesitation marks like you get from a hand operated gun. Easy to control. Air consumption is minimal. You need a pretty good diaphragm regulator on this, connect it straight to the air compressor and its like stomping on a tube of toothpaste. The most pressure I've run is around 40psi with cold roof patch. A small air compressor will do the job just fine. I have a small compressor with an onboard regulator and that works fine.

Occasionally I have found I have to start a tube in a hand gun to break loose the cap in the end of the tube. Worth that little effort. The flow starts when you pull the trigger and stops when you let go. No (or very little) post flow ooze like many caulking guns. The pressure stops when you release the trigger. I've used it for roof patch caulking, polyurethane sealant, latex sealants, epoxy kits, cove base adhesive, it makes application of these things nearly a pleasure.

Northern Tool used to carry an all plastic model of this that I actually preferred because it was lighter in weight. It is no longer available and was a couple bucks more. This HF tool is mostly metal construction, built to last.
Post a Review
Log in or create a user account to post a review!