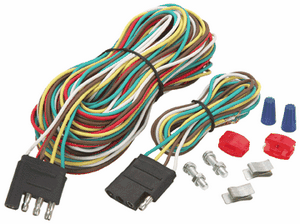 FOUR-WAY TRAILER WIRING CONNECTION KIT - 96658

Ratings: (5 is best)



1 2 3 4 5

Review by Goomer on April 2nd, 2016

It does work, but is such lightweight wire, there is little room for forgiveness. Little resistance to corrosion or stress on the wires. These came with the three HF trailer kits I put together and I did install them. When I went to rewire another trailer - a 16 foot trailer, I used one of these kits and had serious regrets. I got it to work, but the troubleshooting in such an awkward and uncomfortable place negated an $$$ savings over a better quality wiring harness. I solder and shrink tube all the connections, I have little faith in the plastic connectors and wire nuts on something that will see weather exposure. I ground each light individually. It is rare I have problems other than a broken wire. One of those jobs where if it's worth doing, its worth doing right. And only doing once. IMHO, of course.

Trying to trouble shoot and find the broken wire while crawling around on my back and belly just isn't fun. I must not be the only one who feels this way, I don't see this harness listed at Harbor Freight anymore.
Post a Review
Log in or create a user account to post a review!