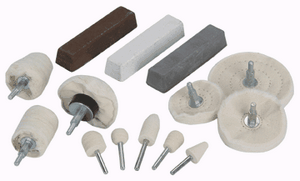 14 Piece Aluminum Polishing Kit - 98707

Ratings: (5 is best)



1 2 3 4 5

Review by lonewolf on February 16th, 2010

I bought this aluminum polishing kit for a old antique 5hp outboard motor which is probably 95% aluminum.After I wet sanded the parts,I used this kit as instructed.It did a terrific job with my hi-speed hand drill and the parts look like mirrors!The old boat motor now looks like a new motor and I get lots of compliments on it.I put a coat of quality hand wax on the motor now and then to keep it looking nice and prevent oxidation.
All and all,I'd say this kit rates a 5 for doing the job its advertised to do.I paid $17.99,which I feel was a little pricey,but the kit still has plenty of use leftover for a few more polishing jobs.Used with a coupon,or when on sale,its a excellent buy for polishing metal.
Post a Review
Log in or create a user account to post a review!