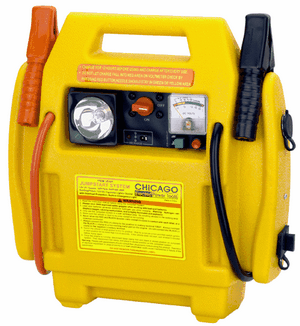 12 VOLT JUMP START AND POWER SUPPLY - 38391

Ratings: (5 is best)



1 2 3 4 5

Review by JonBoy470 on December 1st, 2013

This unit is, for all intents and purposes, identical to the model 38391 jump starter, save for the color of the external casing and branding.

The big selling point for this unit, aside from price, is the 17 amp-hour battery, which is significantly higher capacity than the batteries in similarly priced units at other big box or automotive stores. In short, this thing will work when the others would let you down. Also unlike competing units, it has an analog voltage meter that gives a much better indication of state of charge compared to the two or three LED's competing units use. Also unlike competing units, the entire back panel is removable, aiding in battery replacement/disposal, and repairs to the unit should you be so inclined.

The cigarette lighter socket on the side will power an 110V inverter or cell phone charger. The biggest device I've plugged into it was a 12V tire inflater. The voltage gauge lets you get a better idea of how quickly you're draining the battery.

The wall wart initially seems a down-side (who needs more of those?) but again, unlike some competitors, the unit can also be recharged (via the same power jack) using the included cigarette lighter adapter. You can recharge it without taking it out of the car, maximizing the chance it will be charged and in the car when needed.

It's not perfect; Harbor Freight has been using this same design for a number of years, hence it lacks features common on more recently introduced competitors. There's no USB cell phone charger, and the work-light is incandescent, rather than LED, to the detriment of battery and bulb life. The internal recharging circuit is rather basic, as it doesn't incorporate trickle charging, but does turn off charging when the battery is fully charged. The unit can be safely left plugged into power indefinitely. The unit is tall and skinny, which makes for easy storage, but it likes to tip over while you're trying to use it.

Altogether, this is a very nice unit, especially considering it undercuts competitors on price. It's short-comings are not deal-breakers, and are excusable given the low price and the fact that it out-powers those competitors with its larger battery.

Review by Goomer on November 29th, 2010

A very handy portable power supply. Nothing real fancy, but on sale its less than the replacement battery would be. During a recent 4 day power outage, I discovered that with a small inverter, this would run a lamp with a florescent bulb for days before it needed a recharge. I have one that is 7 years (or so) old and have kept it charged and it still works well. The newer ones have a built in transformer/charger and are even handier. They will jump start cars as well, and with a bit of thought are amazingly versatile, run a wench remote from the vehicle, smaller power tools with an inverter, etc. I really like this thing, and think its one of the slicker Harbor Freight products out there.
Post a Review
Log in or create a user account to post a review!