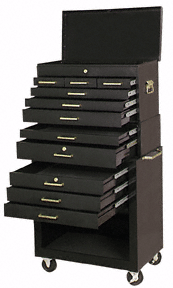 11 Drawer Roller Cabinet - 39421

Ratings: (5 is best)



1 2 3 4 5

Review by michi098 on July 2nd, 2010

I do not own this, but I have looked at it in store many times!

I have had a coupon for this for $139 and have been to the store three times to check this item out. Every time I am at home, I think it looks like such a great deal, but when I go to the store and look at it, I can't get myself to buy it.

The metal overall is fairly thin. When you pull on the side handle, the whole side moves. Worse part is the sliding mechanism of the drawers. This is the part that keeps me from buying this cabinet. It's a sliding mechanism, no wheel rollers or ball bearings. If you don't close the drawer exactly straight, it gets stuck, you have to pull it back out and try again. I'm not sure if this would get better or worse over time.

Just thought I would mention this as there are no reviews from owners.
Post a Review
Log in or create a user account to post a review!