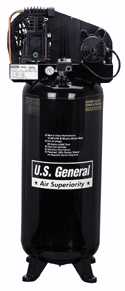 3.5 HP, 60 Gallon, 130 PSI Compressor - 55222

Ratings: (5 is best)



1 2 3 4 5

Review by hank1 on March 6th, 2010

I bought one of these compressors several years ago and have worked it hard. I've run paint guns, sanders, sand blasters, every kind of air tool there is and it has never failed. Italian pump and assembled in South Carolina.
Post a Review
Log in or create a user account to post a review!