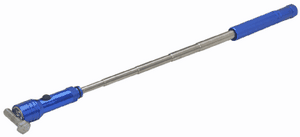 Telescoping Magnetic Flashlight With 3 LEDs - 66317

Ratings: (5 is best)



1 2 3 4 5

Review by Bigplanz on February 9th, 2010

Another gimmicky looking tool from Harbor Freight that turned out to be very useful. I have a tendency to drop small objects (screws, nuts, retaining clips) at the worst possible time and in the worst possible place. Thinking I might find use for this tool, I bought it and stuck it in my car toolbox. Sure enough a couple of weeks later (while it was snowing, of course), my car wouldn't start and I popped the hood. I took off the distributor cap and saw that it and the rotor were bad. An easy repair, but I, yes, dropped the MAP sensor retaining clip into the yawning dark cavern of the engine compartment. GRRRRR. I got out this little telescoping light/magnetic pickup tool and found the clip and easily retrieved it from a small crevice next to the oil sending unit. What would have been a frustrating and difficult task was easily accomplished. I could both see the retaining clip (with the tiny light) and pick it up (with the magnetic ring around the light). This little thing is great! Highly recommended.
Post a Review
Log in or create a user account to post a review!