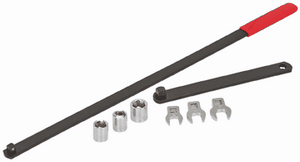 Serpentine Belt Tool Kit - 66344

Ratings: (5 is best)



1 2 3 4 5

Review by Bigplanz on January 31st, 2013

This consists of a 23 inch long, 3/4 inch wide,1/4 inch bar with a red handle on one end an a 3/8 inch square drive on the other. The square drive is welded into a square hole in the bar. In addition there is a nine inch bar with a half inch square drive socket. It is an inch wide, 1/4 thick.

There are three 12 point metric sockets and three crows foot metric sockets. All the sockets and crows foots are 3/8 drive. These bars are very sturdy. No flex at all. They aren't breaker bars but for their intended purpose they will work fine. I got this on sale with a 20% off coupon so it cost me $7.20. I have no need for it, as my current car has three accessory belts. Still, for that price I couldn't pass it up. If you need something like this, you can pick it up for less than $14, with a coupon.
Post a Review
Log in or create a user account to post a review!