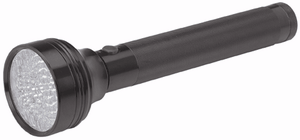 11-1/4" 95 LED Flashlight - 66567

Ratings: (5 is best)



1 2 3 4 5

Review by Stormin Mormon on November 7th, 2010

Bought one, tonight. Comes with a set of batteries. With a plastic spacer, so the cheap carbon cell batteries don't go dead in the package. Draws about .490 or so amps, which is reasonable. I had to unscrew the head, and stretch the long spring (you'll see it) cause it wasn't making electrical contact dependably. The threads are coarse. I put some grease on the tail cap threads. Don't lube the light head threads -- don't want those to come loose. The push button is 95 LED or off. (The older style 15 LED button gives 5, 15, or off.) The light spot is even, and about 3 feet diameter across a room, at about 15 foot range. In a dark basketball court, the light circle is about 1/2 width of a court, at full court length. The light is mostly white, with a trace of blue. On sale with 20% coupon, for $16 the light is a good value. The light does not focus, no surprise. I would not pay $30 for this light; I'd go buy a real Mag light for $20 and ten bucks worth of alkaline batteries.


Post a Review
Log in or create a user account to post a review!