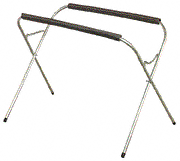 200 LB. CAPACITY PORTABLE WORK STAND - 38778

Ratings: (5 is best)



1 2 3 4 5

Review by Bigplanz on May 13th, 2016

It's a little bit on the wobbly side, so don't put any vibrating equipment on a table supported by it. However, it works great to make a temporary table next to a car you're working on. Put tools, parts, etc. on the table right next to you for easy access. I wouldn't put anything heavy on it. 200 pounds? No way. Maybe a 100, max. Even then, I only put something like a tool box or socket set on it. Nothing more than 50 pounds. Still, worth the $16 I gave for it. Tip. Go get some extra washers and lock nuts. The supplied hardware is only adequate.

Works great for yard sales and in the laundry room too. Wife won't give my original one back, so I bought another for the garage.
Post a Review
Log in or create a user account to post a review!