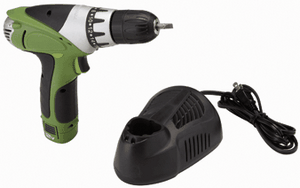 3/8" Lithium Ion Cordless Drill/Driver - 67089

Ratings: (5 is best)



1 2 3 4 5

Review by Bigplanz on December 1st, 2014

I only bought this the other day, so this is more a first impressions than a full fledged review. Feels good and balanced, nice and light and charges quickly. I put the battery in the charger and in a half an hour it was reading fully charged. I set the driver to the 6 setting (out of 11, with 11 being highest torque) and it buried a deck screw in a 2x4. I did this about ten times. No problem. I set it to 'drill' and, well, drilled some holes. Worked for that too.

For $38 it seems like a bargain. Just a drill driver to have around the house. Not going to be working with it all day. Something my wife can use if she needs to and the keyless chuck works as it should. All in all, so far I am happy. My heavy 18V nicad monster is off on in a closet somewhere. Kids mislaid it. :)

If it goes bad, I will repost a followup. Provisionally recommended for household and around the garage use. For less than $40 for a lithium Ion drill/drover, I am not complaining.
Post a Review
Log in or create a user account to post a review!