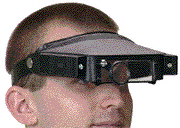 MAGNIFIER HEAD STRAP WITH LIGHTS - 38896

Ratings: (5 is best)



1 2 3 4 5

Review by orangenblack on January 25th, 2010

I have a bunch of these. Many are OK. One had malformed lenses - distorted the view. As you use them a bit, they get sloppy - the magnifier parts flops down on your face (this can be improved for a while by light tap with hammer on the pivot rivets. I actually NEVER use the lights. I just bought this version (with lights) because they were on sale one day, when I needed them, and the NON-light version was not. The plastic is cheap, the battery covers fall off all the time. On one set, the screw holding the monacle fell out, and on another, the spring that controls the inner flap stereo magnifier broke. A buddy of mine spent $30 on similar pair. His ARE much better, but I bought 10 pairs for same money at HF, and have them all over shop & lab.
Post a Review
Log in or create a user account to post a review!