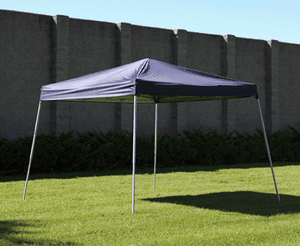 10 Ft. x 10 Ft. Canopy - 97173

Ratings: (5 is best)



1 2 3 4 5

Review by Barry on June 5th, 2013

Canopy is great, Harbor Freight integrity at a -2. I purchased the unit 6 months ago, ie: out of HF 90 day return policy for warrantee. A leg needed to be replaced. Call Harbor Freight and they refer me to Shelter Logic, the distributor HF purchased the canopy's from. Shelter Logic stated they didn't have any replacement parts because the agreement with HF was, for the price, spare parts would not be ordered or available.
HF's attitude has been, not "Out Problem" but still being pestered to buy the special membership, even though I'm still in need of a replacement canopy.
1) HF needs to be HONEST when providing products. IF replacement parts will not be available, put those conditions (REPLACEMENT PARTS NOT AVAILABLE) on the packaging and MAKE the CONSUMER aware so it's one of the "Conditions of Sale".
2) Don't have HF customer service blow smoke or mislead. If HF and the Manufacturer are not going to furnish replacement parts, or any other service that may be necessary, list that information on the PACKAGING.
Pricing is nice, but good & honest service should be provided for the merchandise purchased. I spent 7 days chasing a part that doesn't exist, and the chasing was at the direction of HF.

Post a Review
Log in or create a user account to post a review!