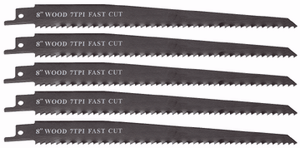 8" Reciprocating Saw Blades, Pack of 5 - 97428

Ratings: (5 is best)



1 2 3 4 5

Review by Bigplanz on April 27th, 2016

They are fine for finishing up when cutting a 6x6 landscape timber with a circular saw. The CS won't make it all the way through, even when cutting all four sides of the 6x6, This blade gets in there deep enough to cut the last square inch of so in the middle of the timber. I wouldn't want to cut all the way through the 6x6 with it though. It would be a long time and result in a pretty jagged, uneven cut.

These are cheap too. For my needs, five are probably all I will ever need. Less that $10 with a coupon.
Post a Review
Log in or create a user account to post a review!